Ronald Coase Centre for Property Rights Research Executive Talk Series
"Economists need to study the work of the broker in bringing parties together, the effectiveness of restrictive covenants, the problems of the large-scale real-estate development company, the operation of governmental zoning, and other regulating activities." (Coase 1960)
Coase's (1937) legendary paper of the firm was largely developed through talking to the executives when he was on a Cassel travelling scholarship in the US at the age of 21 (Coase 1993). This series of executive talks is to honor Coasian approach to research, which has stimulated many brilliant ideas in the following century, such as radio spectrum auctions, carbon trading, and countless institutional innovations in the political, economic and urban development markets.
---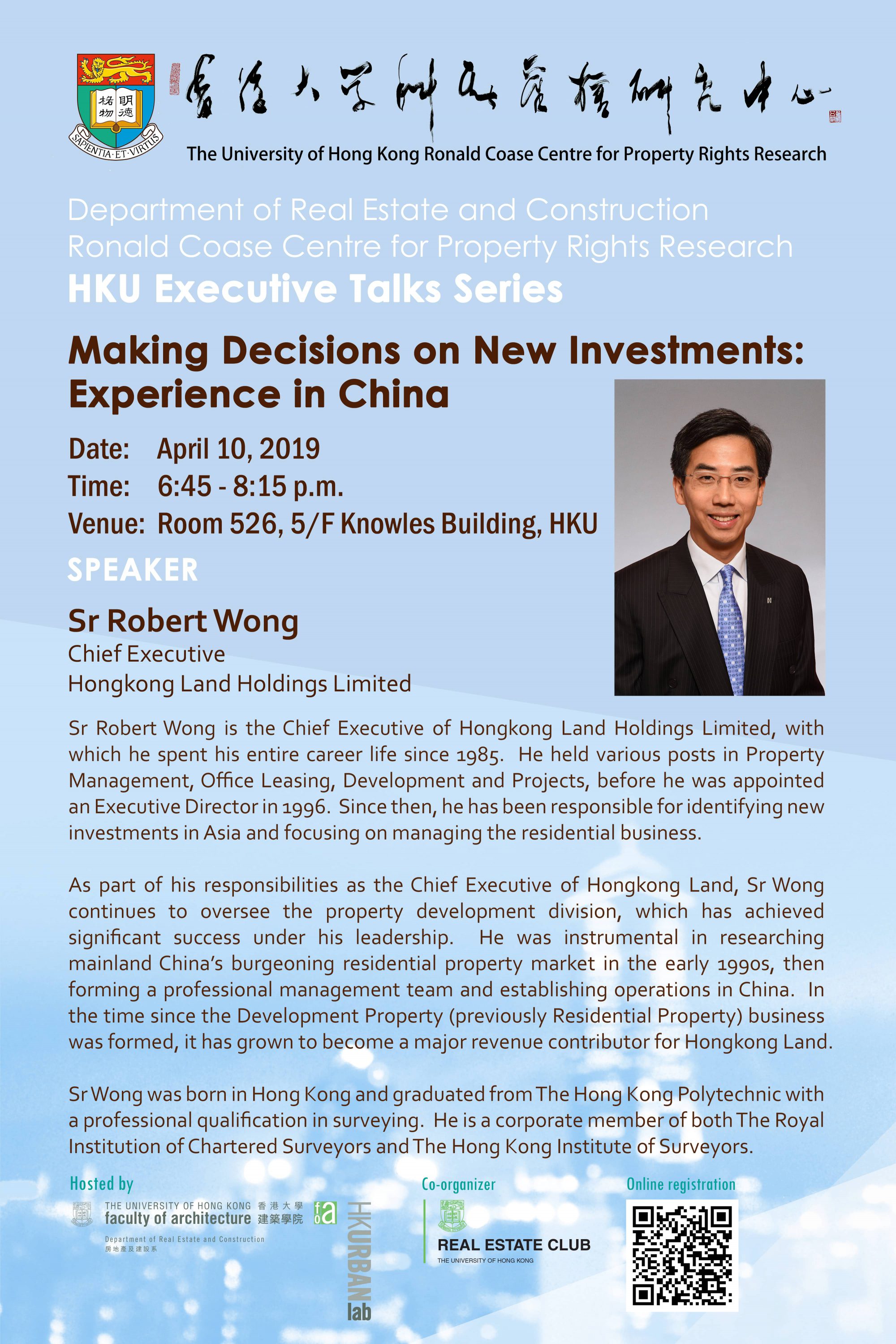 ---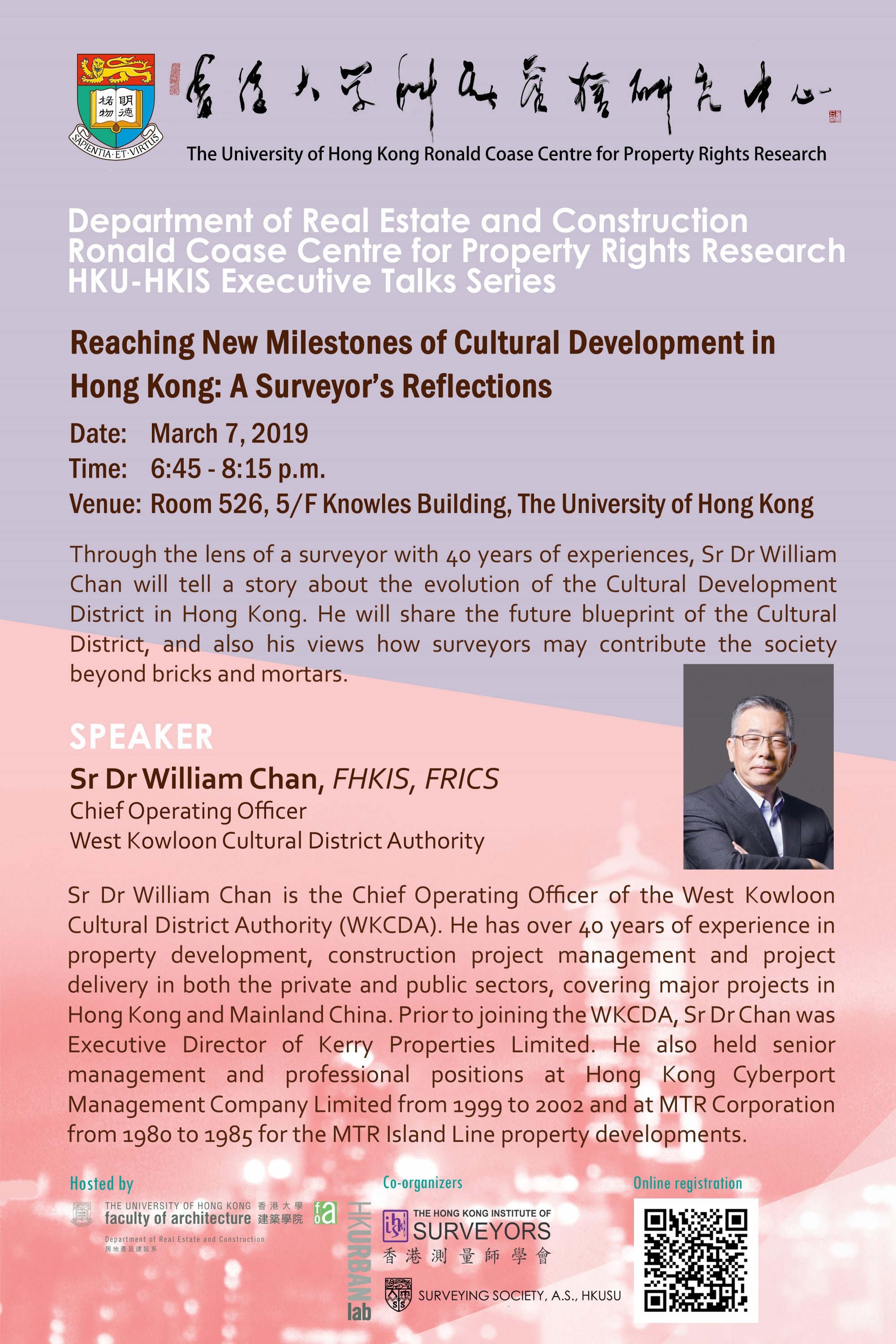 ---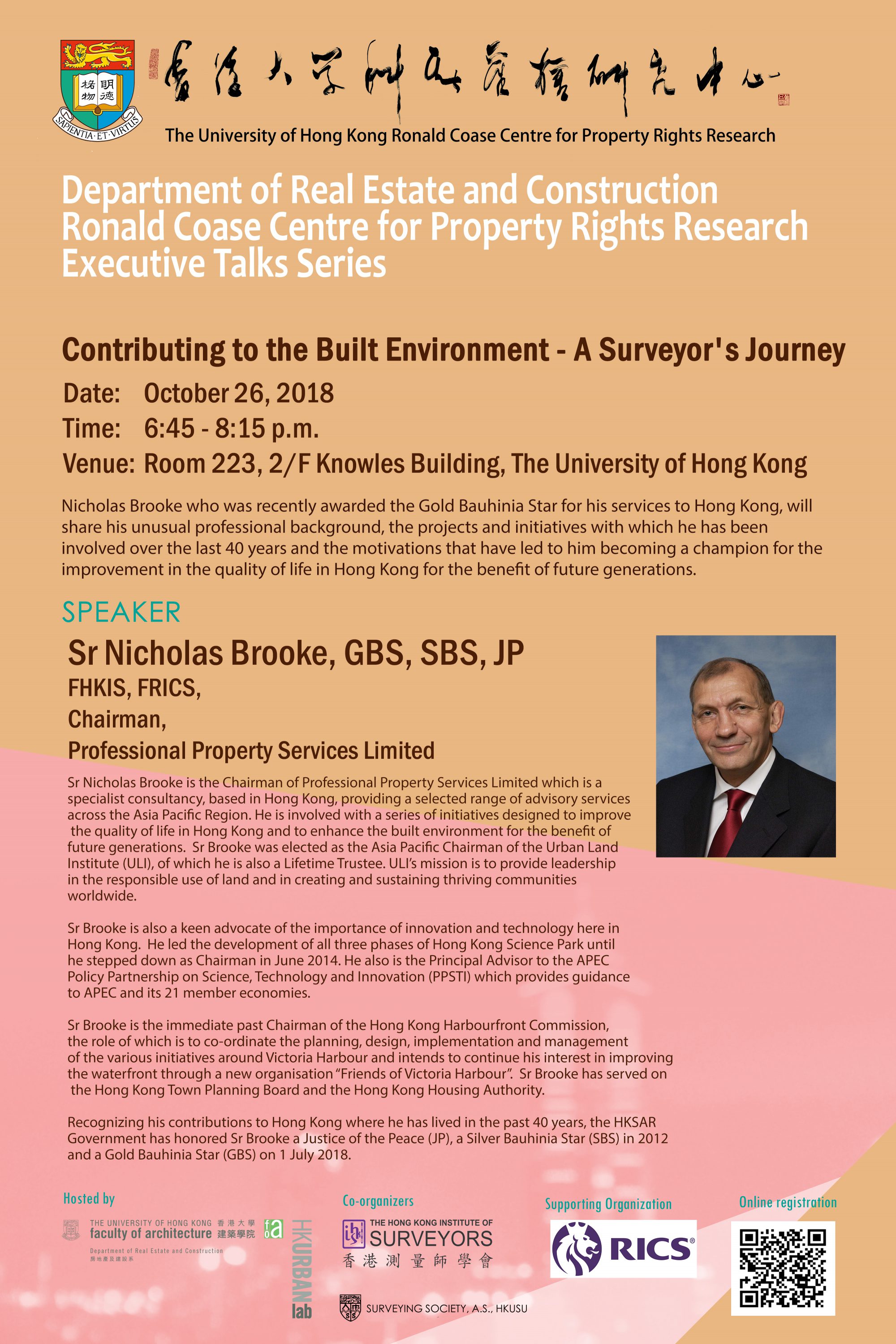 ---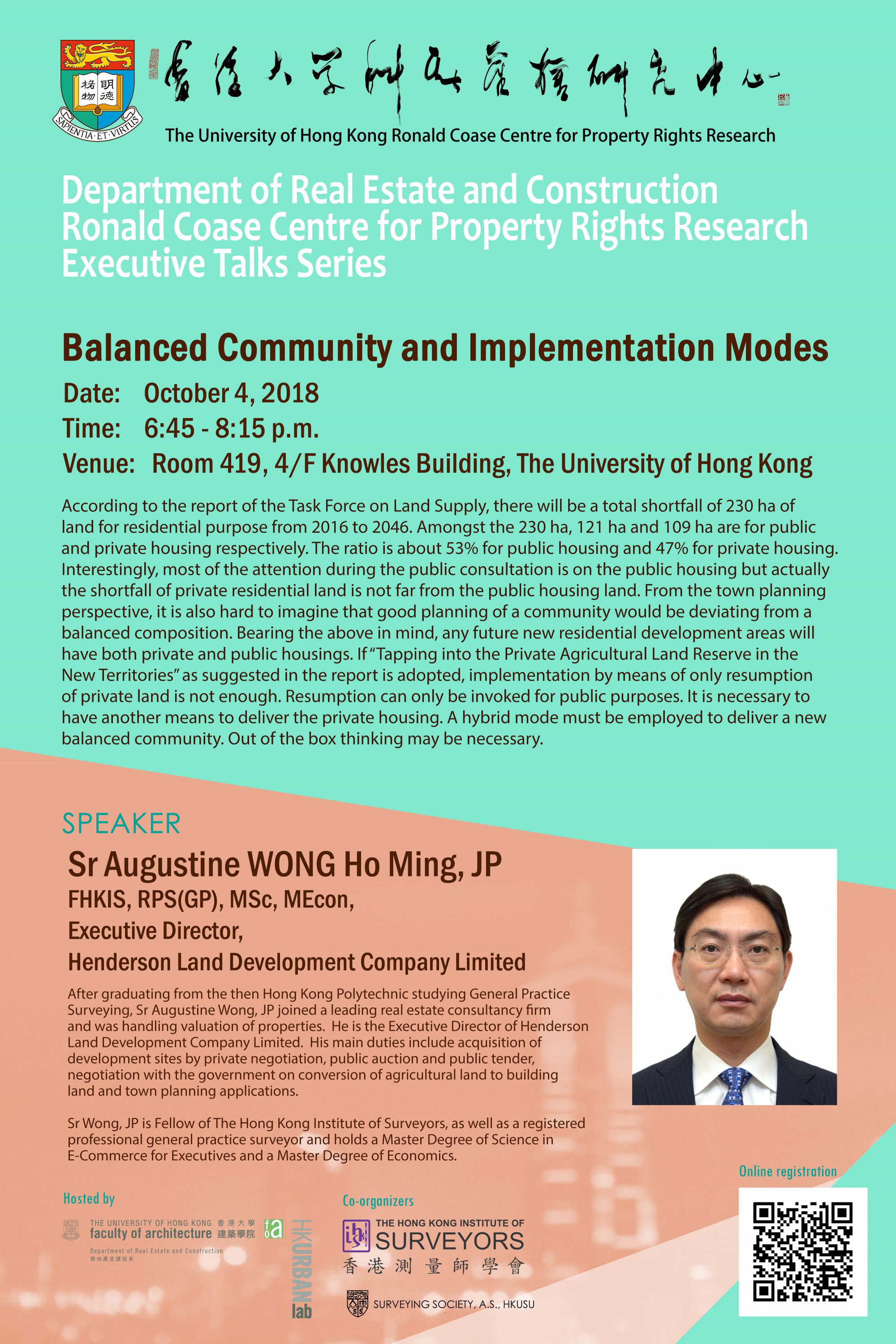 ---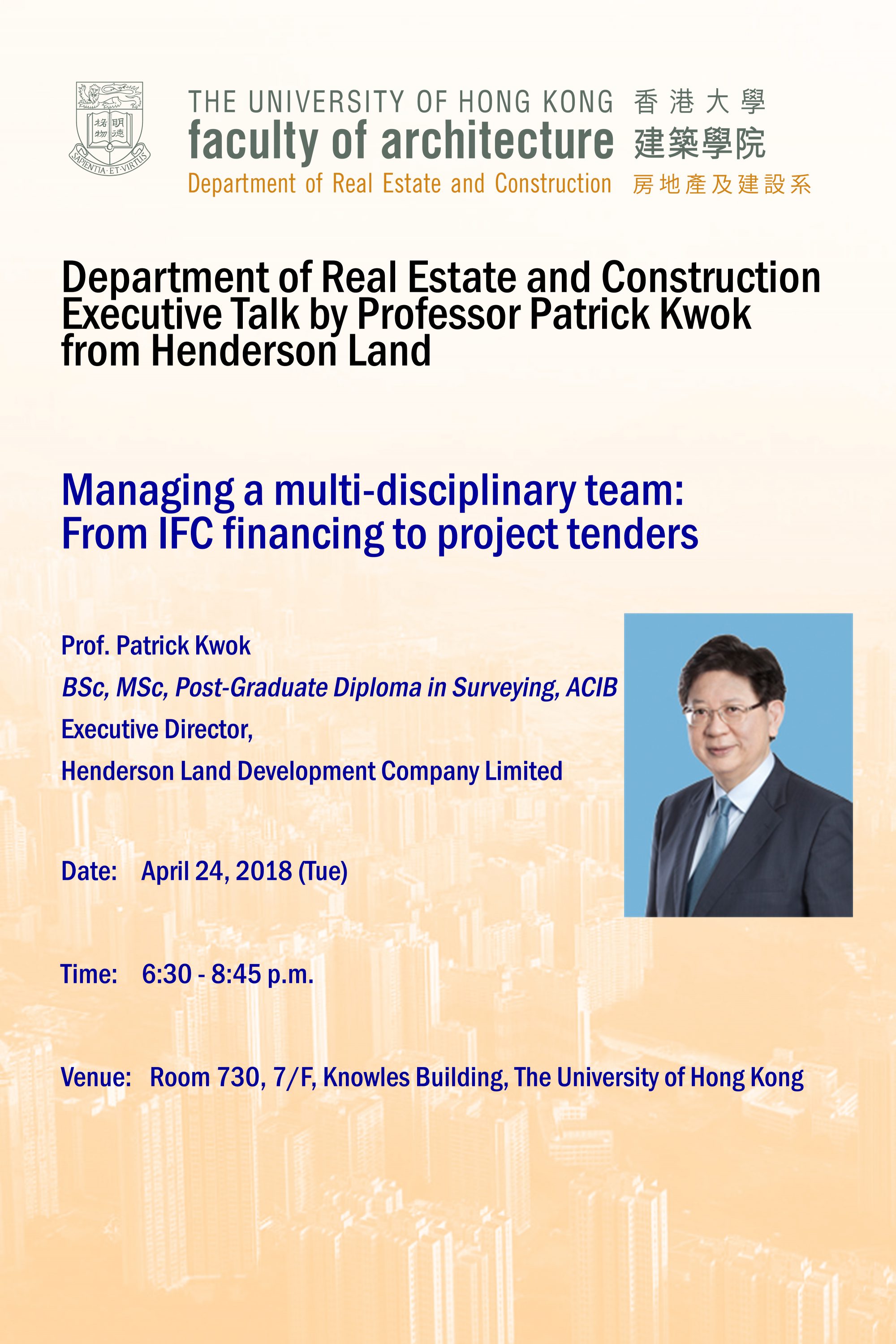 ---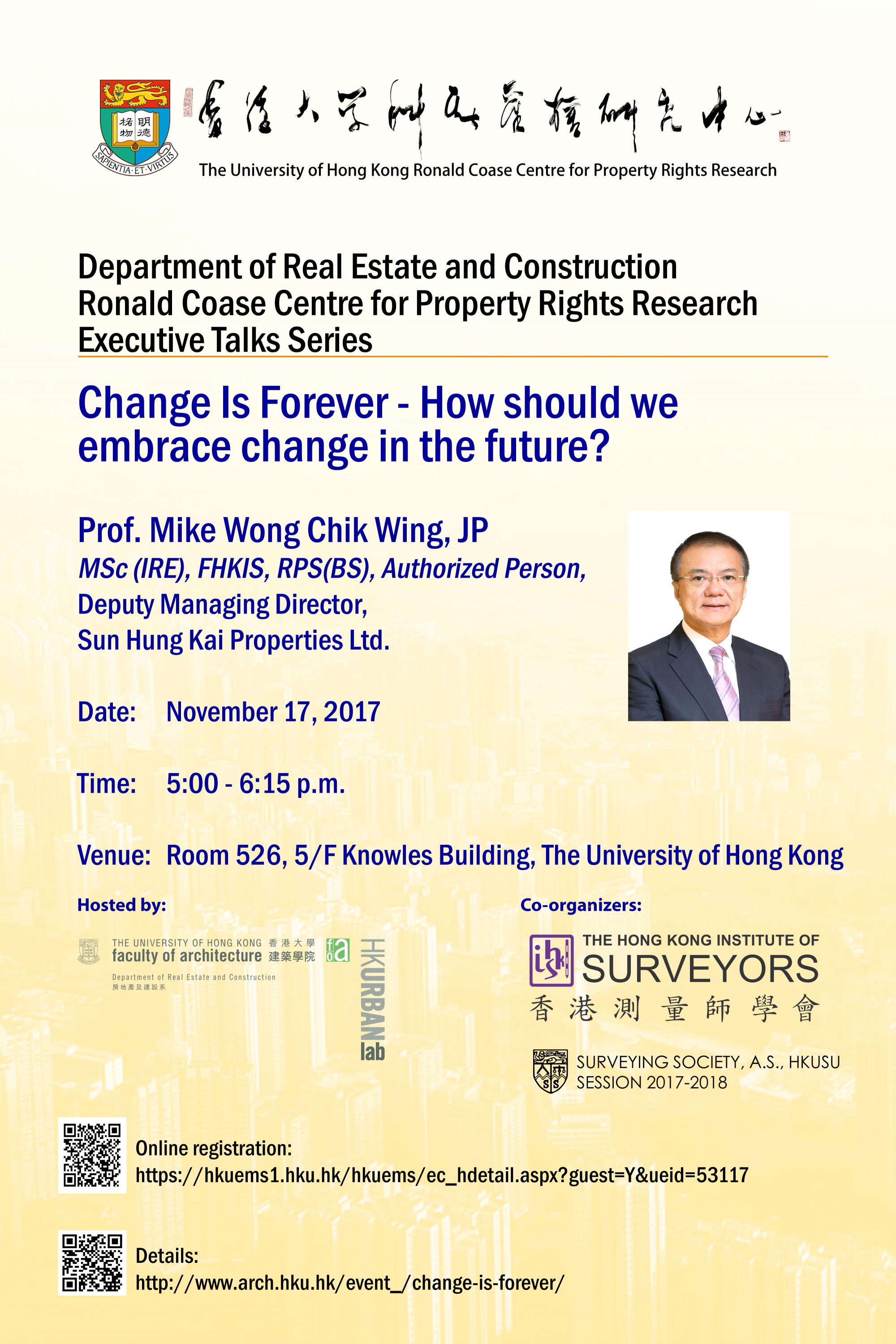 ---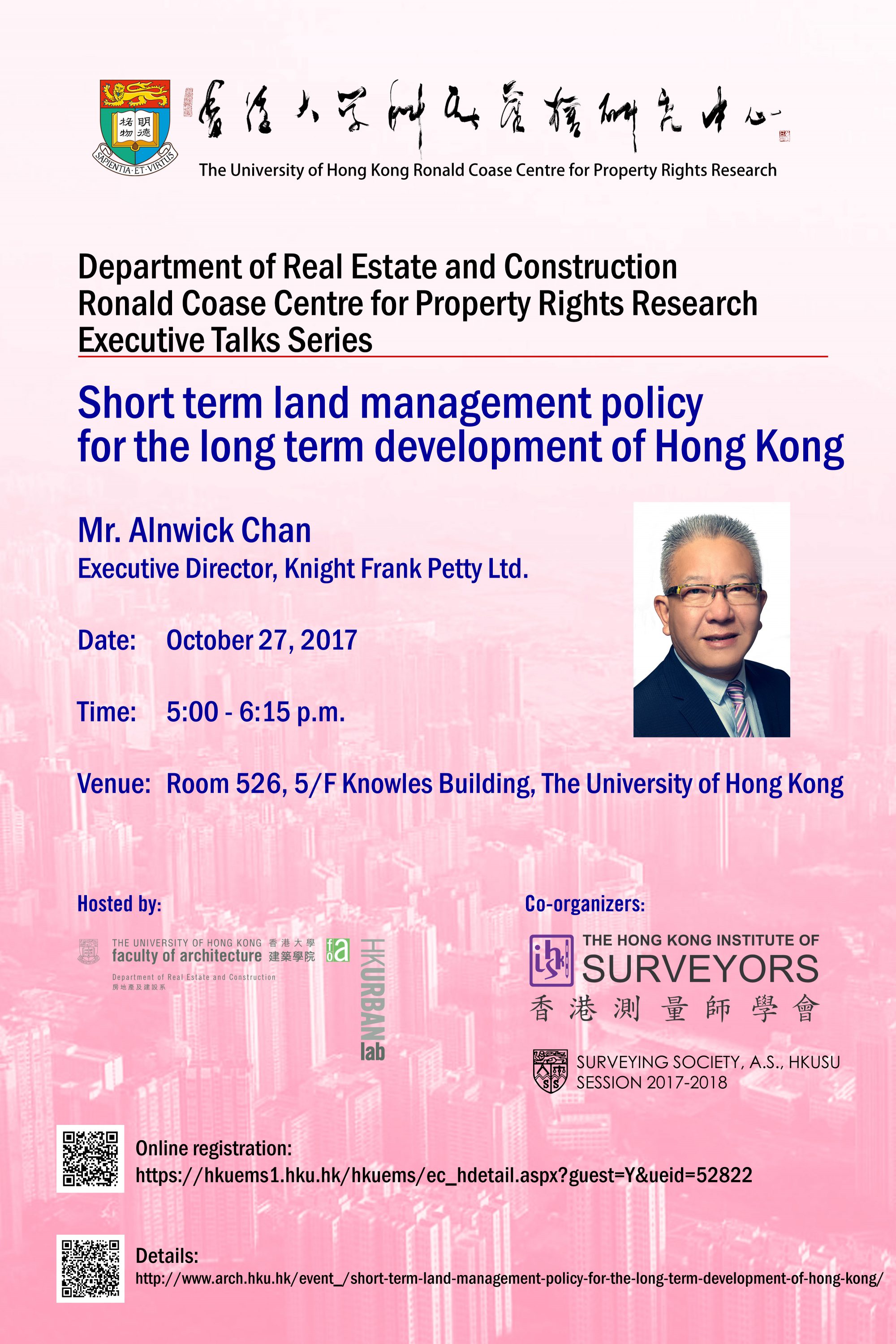 ---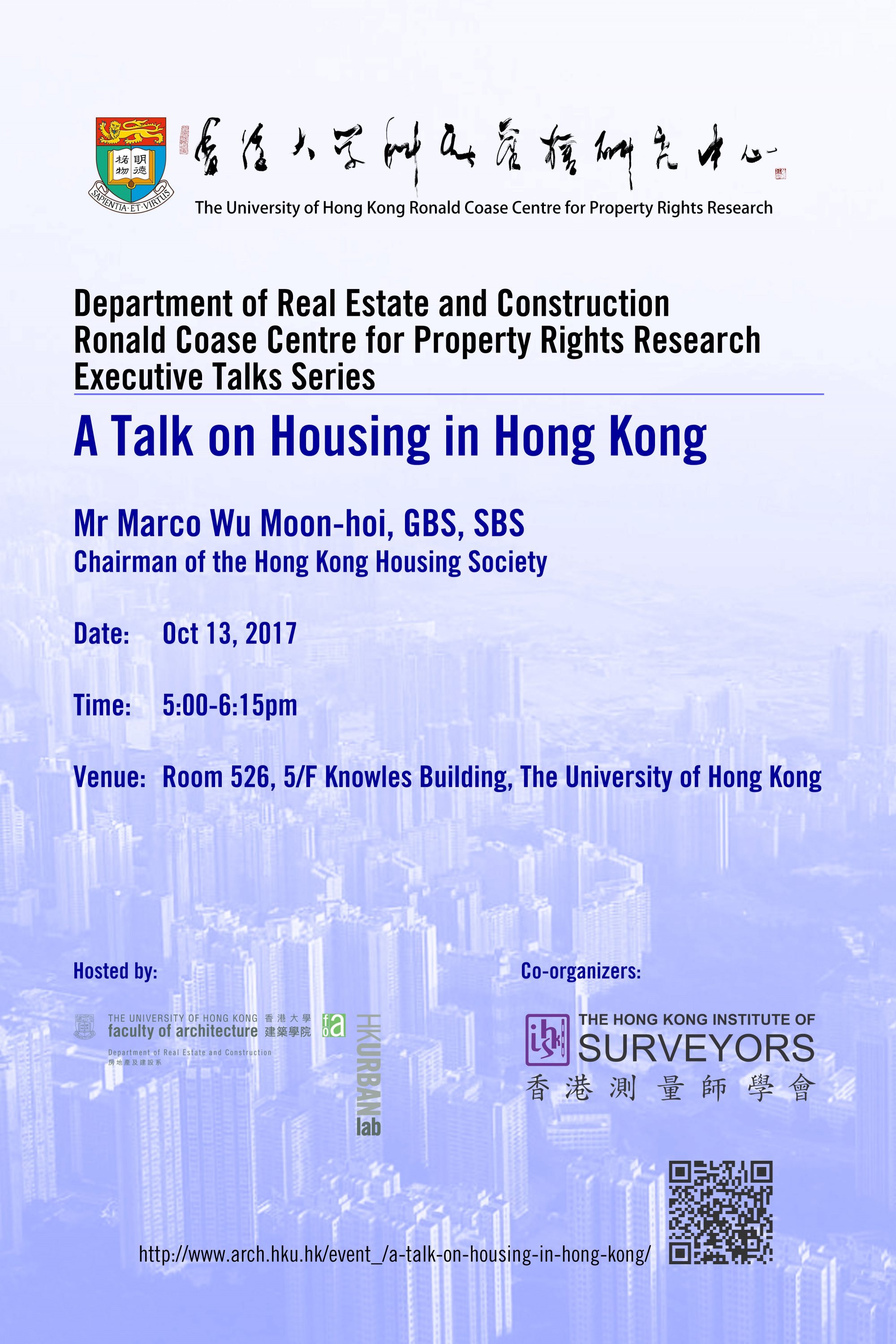 ---
The Art and Science of Managing Major Programmes
Sr. Prof. Man-wai CHAN, Executive Director of Project Delivery, West Kowloon Cultural District Authority
Oct 25, 2016
Time: 4:30pm-5:30pm
Venue: KB526, 5/F Knowles Building, HKU
Abstract
This talk is a reflection of Prof. MW Chan's 2 decades experience on managing public sector programmes in Hong Kong. Challenges encountered and ways of resolving problems in major programme that Prof. Chan chaired and managed, including hospitals, universities, science and technology parks as well as art and culture facilities, will be discussed. While the hardware and software required for the successes of the programmes will be described, the very important "peopleware" aspect will be analyzed. The use of the "Heart" versus the "Head' in programme management will also be illustrated. With reference to his local and overseas experiences prior to join the public sector, Prof. Chan will also contrast the public sector and private sector approaches to those issues.
About the speaker
Prof. M.W. CHAN is a Chartered Surveyor (FRICS and FHKIS) by profession. He has many years' experience in development, construction project and facilities management in private and public sectors both locally and overseas.
Prof. Chan is currently the Executive Director (Project Delivery) of the West Kowloon Cultural District Authority (WKCDA) of Hong Kong. Prior to joining the WKCDA, he was the Vice President (Projects and Facilities) of the Hong Kong Science and Technology Parks Corporation. He oversaw the planning, development, construction and facilities management of the Hong Kong Science Parks, Innocentre and Industrial Estates. He is the Founding President of the Hong Kong Institute of Facility Management (HKIFM). In 2007, he received the Distinguished Building Surveyor award by The Hong Kong Institute of Surveyors.
Prof. Chan had worked in the academia for many years and held a number of key positions of Government committees, professional institutes and universities including member of the Buildings Tribunal, external examiner of HKU, City U and PolyU. Currently, he is a Professor of Practice in The Hong Kong Polytechnic University. Prof. Chan is an alumnus of HKU. He obtained his MSc, MIPA and PhD from the University. He has also completed the Advanced Management and Leadership Program from the University of Oxford (OAMLP).
Certificate of attendance will be issued to registered participants. Please seek advice from your professional bodies about fulfilling their Continuing Professional Development (CPD) requirements by attending this seminar. Please make registration at https://hkuems1.hku.hk/hkuems/ec_hdetail.aspx?UEID=46433&guest=Y . All are welcome.
---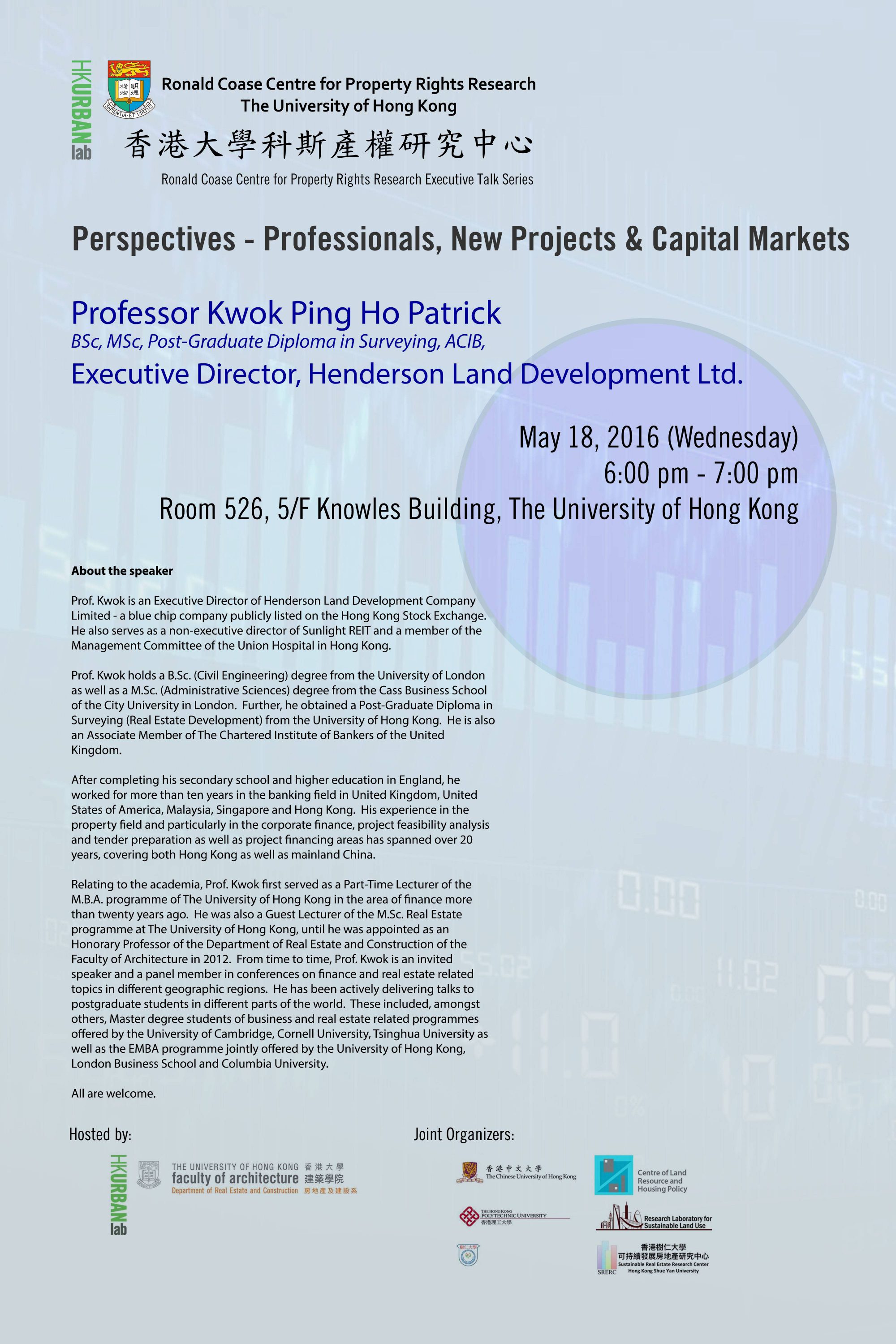 ---
How to Do Real Estate Development in Hong Kong? A General Manager's Perspective
Apr 14, 2016
Sr. Tony Wan, General Manager of Hong Kong Properties, K. Wah International Holdings Limited
Time: 11:00am-12:00pm
Venue: KB726, 7/F Knowles Building, HKU
About the speaker
Sr. Tony Wan (溫偉明), General Manager of Hong Kong Properties, K. Wah International Holdings Limited, takes charge of investment planning, operations, as well as sales and marketing of the company's real estate development projects. Prior to joining K. Wah, Tony was the Property Secretary and Head of Property Division of Tung Wah Group of Hospitals overseeing its entire property portfolio. He was in charge of all development related matters of the Group, such as new development and redevelopment projects, asset enhancement, facilities and tenancy management, as well as acquisition of properties etc. Before this position, he was the Director and Head of both General Valuation Department and Asset Management & Investment Services Department of an international property consulting company – Knight Frank Petty Limited. His portfolio covered a wide range of works including planning and landed matters, asset management services, day-to-day sales and leasing services etc. for various clienteles such as real estate developers and HSBC.
Tony graduated from the Hong Kong Polytechnic University with a Bachelor of Science degree in Land Management. He holds professional memberships of the Hong Kong Institute of Surveyors (HKIS), the Royal Institution of Chartered Surveyors (RICS), China Institute of Real Estate Appraisers and Agents. He is also a Registered Professional Surveyor (General Practice) and Licenced Estate Agent in Hong Kong. Tony concerns about the development of surveying profession and contributes himself in different professional community services. He was the Chairman of the Young Surveyors Group of the HKIS and currently acts as a Council Member of the General Practice Division of HKIS. He is also the appointed member of Land Sub-committee of Land and Development Advisory Committee of HKSAR Government, appointed member of Appeal Tribunal Panel (Building Ordinance), a board member of Surveyor Registration Board, and a Superintendent of the Hong Kong Auxiliary Police Force.
All are welcome.