A Talk on Housing in Hong Kong
October 13, 2017 @ 5:00 pm

-

6:15 pm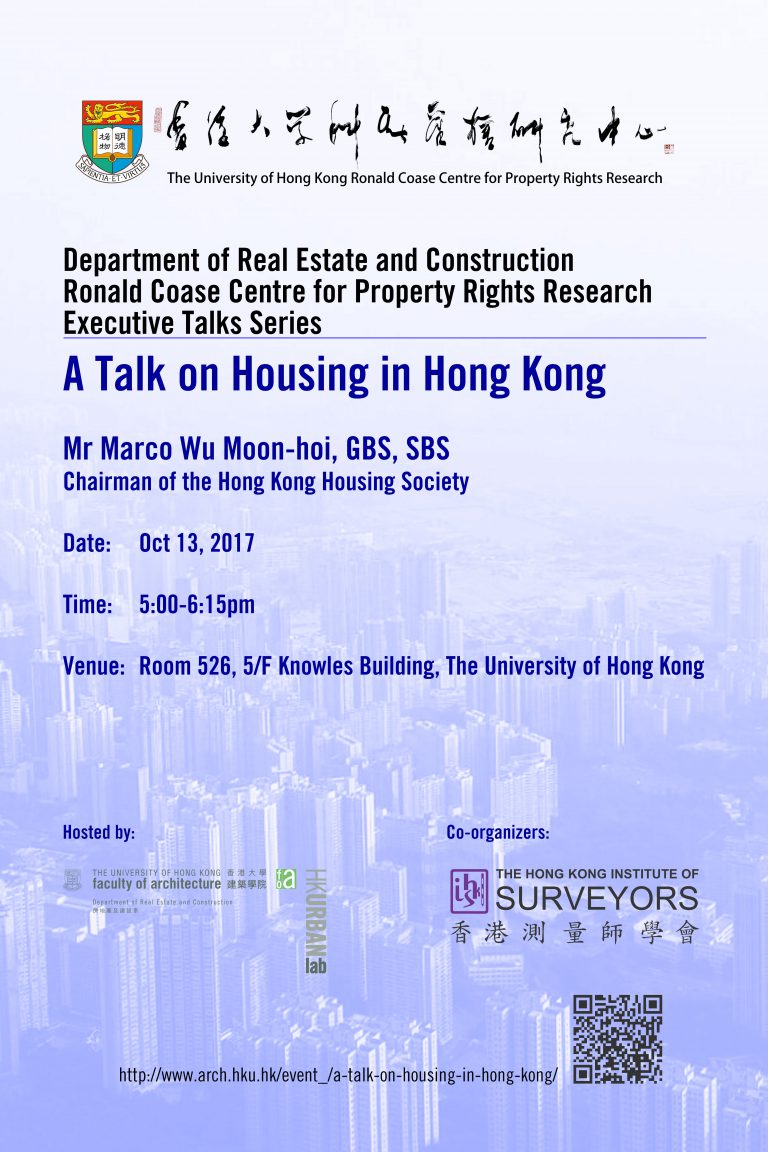 Speaker: Mr. Marco Wu Moon-hoi, GBS, SBS
THE SPEAKER
Mr Marco Wu Moon -hoi is the Chairman of the Hong Kong Housing Society. He is a past President of The Hong Kong Institute of Surveyors, and was a member of the Long Term Housing Strategy Steering Committee. Mr Wu is a Fellow of The Hong Kong Institute of Surveyors and The Royal Institution of Chartered Surveyors.
Mr Wu had served the Government for 39 years. He was the Deputy Director of Housing from 1996 to 2003, and the Director of Buildings from 2003 to 2006. During his 26 years with the Housing Department, he made significant contribution to the formulation and review of major housing policies. As the Director of Buildings, he was responsible for developing policies and strategies governing the control and facilitation of private building developments. Mr Wu was awarded Silver Bauhinia Star in 2006 and Gold Bauhinia Star in 2014 for his dedicated service to the community.
THE TALK
Mr. Marco Wu Moon-hoi, GBS, SBS, will share his career development experience in the housing industry in Hong Kong with students and young practitioners. On Hong Kong's housing policy, he will talk about the mismatch of housing supply with respect to the demographic changes over the years. Mr. Wu will also share his views about the way forward for building a seamless housing ladder in Hong Kong.