Balanced Community and implementation Modes
October 4, 2018 @ 6:45 pm

-

8:15 pm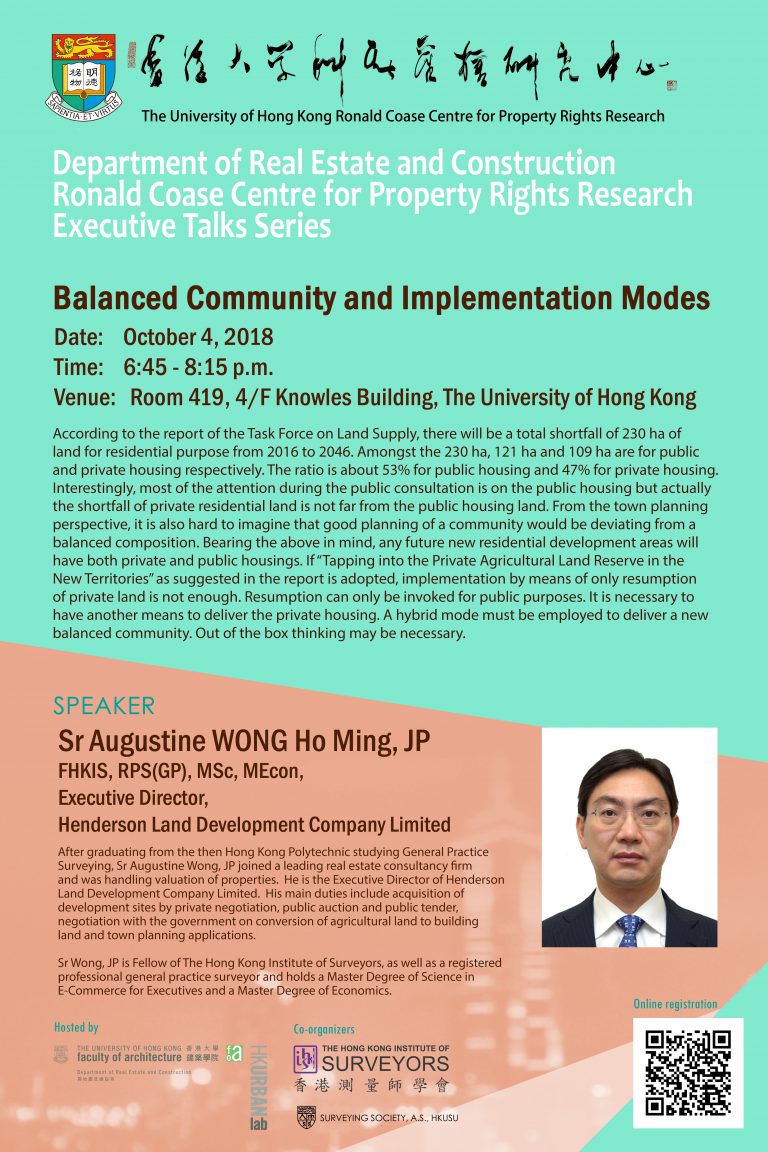 Speaker: Sr Augustine WONG Ho Ming, JP, FHKIS, RPS(GP), MSc, MEcon, Executive Director, Henderson Land Development Company Limited.
THE SPEAKER
After graduating from the then Hong Kong Polytechnic studying General Practice Surveying, Sr Augustine Wong, JP joined a leading real estate consultancy firm and was handling valuation of properties. He is the Executive Director of Henderson Land Development Company Limited.  His main duties include acquisition of development sites by private negotiation, public auction and public tender, negotiation with the government on conversion of agricultural land to building land and town planning applications.
Sr Wong, JP is Fellow of The Hong Kong Institute of Surveyors, as well as a registered professional general practice surveyor and holds a Master Degree of Science in E-Commerce for Executives and a Master Degree of Economics.
Sr Wong, JP is currently Member of Radio Television Hong Kong (RTHK) Board of Advisors, Member of The Statistics Advisory Board, Member of The Appeal Board on Public Meetings and Processions, Chairman of The Real Estate Services Training Board of Vocational Training Council, Convenor of The Legal Sub-Committee of The Real Estate Developers Association of Hong Kong. He was Member of The Long Term Housing Strategy Steering Committee, Member of The Hong Kong Housing Authority, Member of The Land and Building Advisory Committee, Member of The Estate Agents Authority as well as The Chairman of The Licencing & Practice Committee, Part-Time Member of The Central Policy Unit and Member of Commission on Strategic Development Committee On Economic Development And Economic Cooperation With The Mainland, Member of Estate Agents Appeal Board.
THE TALK
According to the report of the Task Force on Land Supply, there will be a total shortfall of 230 ha of land for residential purpose from 2016 to 2046. Amongst the 230 ha, 121 ha and 109 ha are for public and private housing respectively. The ratio is about 53% for public housing and 47% for private housing. Interestingly, most of the attention during the public consultation is on the public housing but actually the shortfall of private residential land is not far from the public housing land. From the town planning perspective, it is also hard to imagine that good planning of a community would be deviating from a balanced composition. Bearing the above in mind, any future new residential development areas will have both private and public housings. If "Tapping into the Private Agricultural Land Reserve in the New Territories" as suggested in the report is adopted, implementation by means of only resumption of private land is not enough. Resumption can only be invoked for public purposes. It is necessary to have another means to deliver the private housing. A hybrid mode must be employed to deliver a new balanced community. Out of the box thinking may be necessary.