The award-winning paper is
Wu, L., Lu, W.S., Zhao, R., Xu, J.Y., Li, X., and Xue, F. (2021). Using blockchain to improve information sharing accuracy in the onsite assembly of modular construction. ASCE Journal of Management in Engineering. https://doi.org/10.1061/(ASCE)ME.1943-5479.0001029.
More information can be found from the ASCE JME webpage: https://ascelibrary.org/journal/jmenea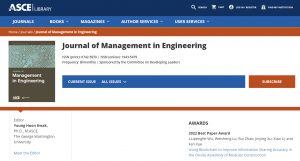 Or LinkedIn Page: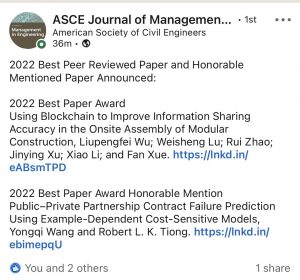 Congratulations to All. There will be an award ceremony taking place on ASCE's 2022 Annual Convention taking place October 23-26 in Anaheim, CA.