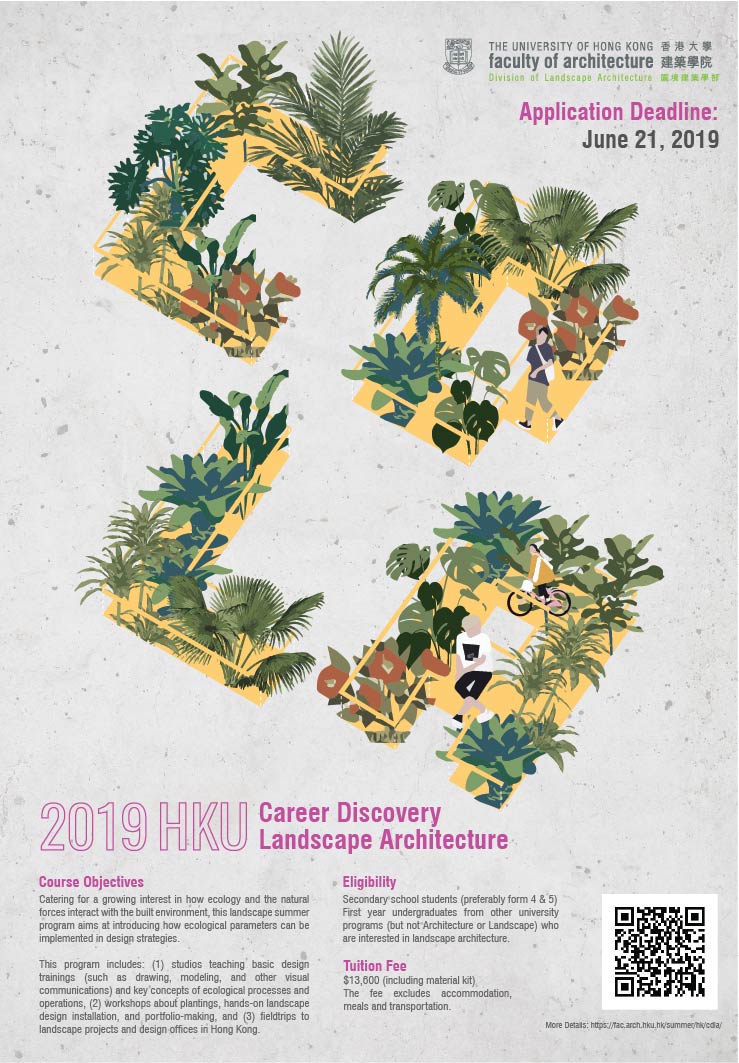 Catering for a growing interest in how ecology and the natural forces interact with the built environment, this program aims to introduce how ecological parameters can be implemented in design strategies. Students will participate in workshops and lectures about sustainability, planting design, cultural landscape, and how ecological processes/ operations inspire the design of landscape spaces. There will also be field trips to key landscape projects and professional landscape design offices in Hong Kong.
This summer program offers the following learning activities:
Landscape Architectural Design Studio
Lectures in visual arts, sustainability, landscape architecture
Workshops in sketching, technical drawing, model-making
Field trips to key landscape projects in Hong Kong
Tours to landscape design offices in Hong Kong
Course Period 2019:
July 15, 2019 to July 26, 2019
Course Schedule:
Monday – Friday, 9:30 – 17:00
Program Fee:
$13,600 (including material kit)
The fee excludes accommodation, meals and transportation.
Programme Director:
Vincci Mak
Online Application:
https://extranet.ad.arch.hku.hk/Admission/ARCHCDLA
Application Deadline:
Non-local Applicants:

March 31, 2019

Local Applicants:

June 21, 2019
Eligibility:
Secondary school students (preferably form 4 & 5)
First year undergraduates from other university programs (but not Architecture or Landscape) who are interested in landscape architecture
Student Visa Application
You are not allowed to study in Hong Kong if your visa/entry permit is not yet approved. Students are not eligible to study in Hong Kong with tourist visa. Therefore, you should submit your application for entry for study as early as possible before programme commencement. For comprehensive guide to student visa application, please see: https://aal.hku.hk/summerinstitute/summer-at-hku/visa/
Accommodation
As places for accommodation at HKU are very limited, for temporary stay during the programmed period, you could visit the link below to contact the hall office directly for reservation and other arrangements. You are suggested to apply for accommodation as soon as you are offered to admission to our programme to avoid disappointment.
http://www.cedars.hku.hk/campuslife/accommodation/temporary
Enrolled students may only stay in the student hall within the programmed period. Only students who are at the age of 15 or above (on or before the check-in date) are allowed to reside in the HKU administered residences.